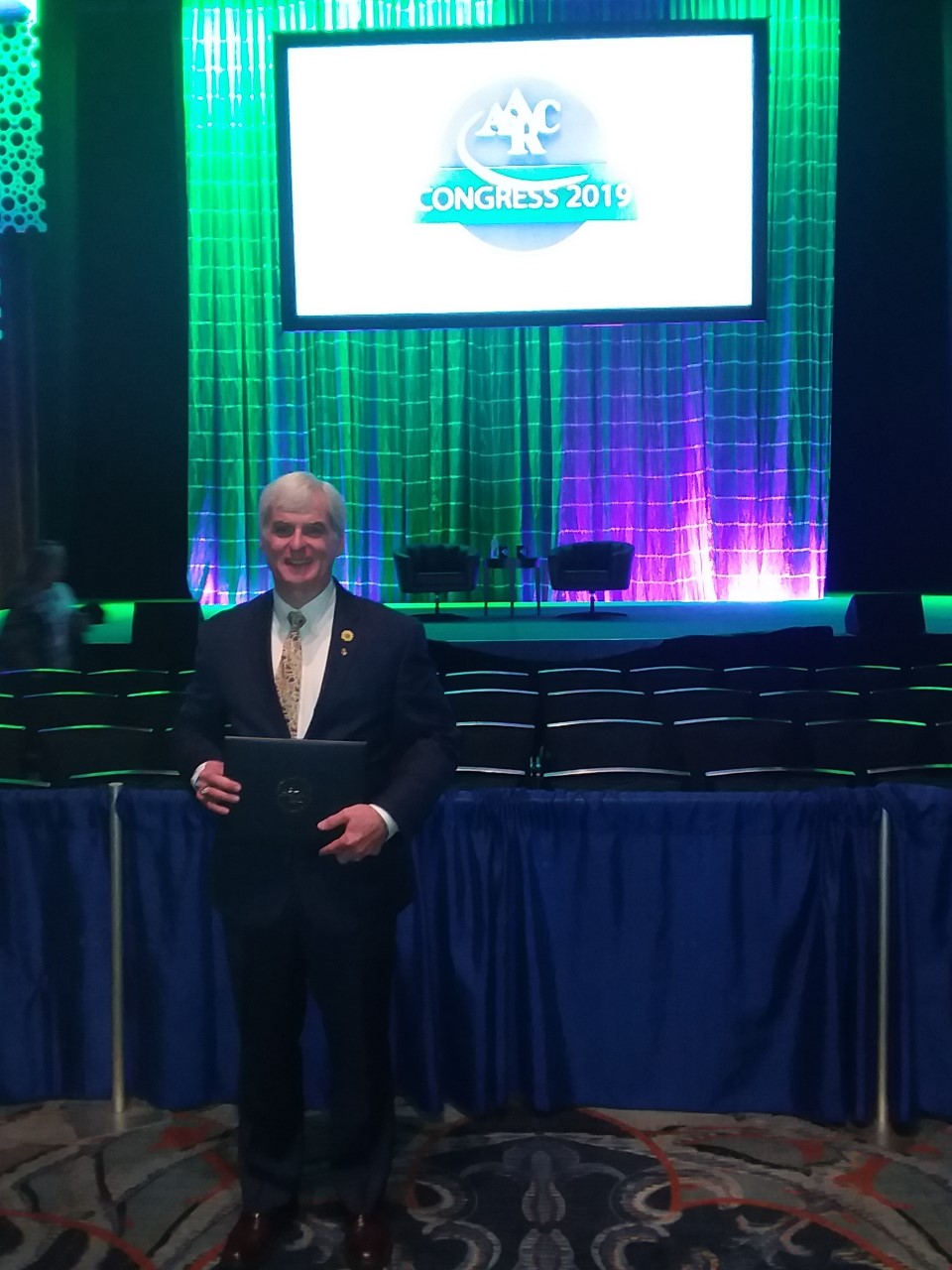 Stephen Smith, MPA, RT, RRT was honored as one of the newest Fellows of the American Respiratory Care Profession (FAARC) at the National Congress last week.   Steve is a Past Chair and Extended Member of the  New York State Board for Respiratory Therapy and currently holds the position of NYSSRC Delegate to the AARC.  He has been a faculty member at SUNY Stony Brook for the past 14 years.  His research contributions have been substantial change agents toward the advancement of our profession.
Steve earned a Bachelor of Science Degree in Respiratory Therapy from Long Island University in 1978 and followed that up with a Master's Degree in Public Administration with an emphasis in Health Care Administration from LIU in 1983. His career as a respiratory therapist began at Queens Hospital Center in Jamaica, NY. He accepted a position as a Respiratory Care Clinician at Stony Brook University Hospital in 1980 and in 1981 was promoted to Assistant Director. He then went on to become Director of Respiratory Care at Long Island Jewish Medical Center in 1984 and then Vice President of Operations and Clinical Services at Anthony Home Health Care in 1985. In 1995 Mr. Smith left the corporate world to return to clinical practice as the Assistant Director of Respiratory Care at Southside Hospital in Bay Shore, NY. He remained there until October of 2000 when he returned to Stony Brook University Hospital as Associate Director of Respiratory Care. Mr. Smith accepted a full-time faculty position at Stony Brook University in 2005 and is currently responsible for teaching the department's comprehensive cardiology courses as well as medical ethics and respiratory care technique courses. In 2002 he was appointed by the New York State Education Department's Board of Regents as an active member of the Office of the Professions Respiratory Therapy Board and served two 5 year terms. While serving on the Respiratory Therapy Board, Mr. Smith had been elected by the board to serve three consecutive two-year terms as its Chairman. He presently now serves as an Extended Member of the licensure board. In 2014 he received the Faculty Honor Award from Stony Brook University's School of Health Technology and Management and in 2015 he received the New York Downstate Association for Respiratory Therapy, "Respiratory Therapist of the Year" Award. He has been a member of the American Association for Respiratory Care and the New York State Society for Respiratory Care since 1975. In 2014 Mr. Smith was elected to the New York State Society for Respiratory Care as a board member as the Long Island Regional Director and has subsequently been elected as Delegate.
Steve is a consummate professional, an inspirational mentor and great friend. Congratulations Steve on this well-deserved recognition!
Respectfully,
Josh Escudero (President)