On April 4, the AARC once again 'Stormed the Hill' to visit Congress and talk about issues important to our profession.  NYSSRC representatives were successful in securing several meetings with NY congressmen.  The focus of these meetings was to include respiratory therapists in any Telehealth bill considered by Congress this year and to convey our value in improving patient outcomes.
Check out our pics of NYSSRC members in Washington D.C. (including: Dana Badke, Ron Jacobs, Felix Khusid, Steve Smith, Sheri Tooley, and our Student Essay Contest Winner: Cat Vidal!)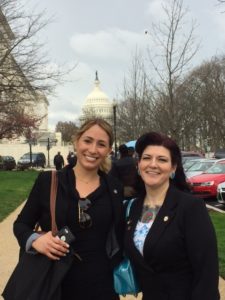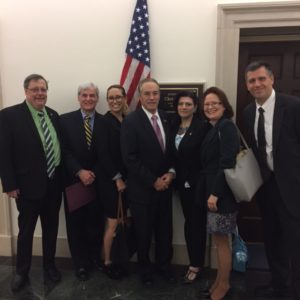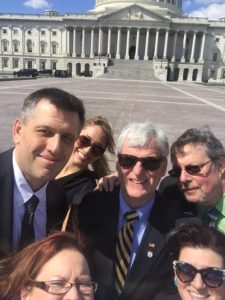 ---
On a related note, Cheryl West has been instrumental in spearheading and participating in these Hill Days since their inception.  The NYSSRC would like to recognize her for her tremendous efforts over the past 3 decades and wish her the best in her retirement.  Please see her farewell letter below.
Hello Everyone,

I am still stunned and overwhelmed at the outpouring of kindness from all of you who participated in and/or sent your well wishes to me for my surprise retirement party this week while we were in DC for Hill Day .  I still don't have the words to say "thank you" properly since I get all  teary eyed  (it's true, hand to God) when I think about it.

I remind myself every day that you all are volunteers and yet you all devote your precious time and efforts to furthering not just the respiratory profession but the lives and health of the millions of pulmonary patients across the country.  Recognizing the devotion you give to the profession and the patients always inspired me to know that my mission at the AARC was to make your efforts a little easier, by providing you with a bit more information or suggestions (my hysterical rants included).

You all will be in excellent hands with Anne Marie, she is so very good and is as fierce as I am when it comes to defending this invaluable profession and the patients you serve.

It has been such an privilege to have been able to serve you and this profession for 29 years. I shall miss each and every one of you terribly.

CW